We probably have the litigious nature of society to blame for many things that are just plain stupid. You would not think that a warning label would be required on a lawn mower that warns users to keep their limbs clear of the cutting blades or one on a plastic bag advising users to avoid putting it over their heads, but that is the reality of the world we live in. All of us cross paths with warning signs that are pretty stupid, but the following should probably be eligible for some kind of award, like "Stupidest Warning Signs in The World" or something.
#1 DEATH PENALTY
It's not clear whether these people hope to collect their $200 fine from violators in the afterlife or what.
#2 GO AHEAD! TOUCH IT!
Maybe this is just someone's attempt a humor or perhaps the type of paint they used looks wet even after it has fully dried. On the other hand, perhaps they don't want people touching their walls and they are using a clever reverse psychology trick to make wall-touching less enticing.
#3 A FLOOD OF THE OBVIOUS
Well, who would have ever thought of that?
#4 WORSE THAN YELLOW SNOW!
Standing in front of one of these usually presents sufficient olfactory evidence that it is not a drinking fountain!
#5 GET A GRIP!
Anyone lacking the observation skills to determine which end of a chain saw is intended to be the handle probably isn't bright enough to decipher the sign or put that advice into practice even if they can.
#6 DIGGING DEEP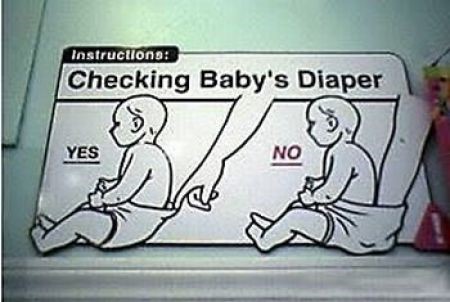 Perhaps someone inclined to reach inside a diaper would learn a lesson that would stay with them much longer than a warning on a sign. This is probably a lesson best learned the hard (or soft!) way.
#7 GONE TO THE DOGS
We assumed that dogs were prohibited from operating motor vehicles in virtually every county in the world, but it looks as if we may have been mistaken!
#8 LEAP OF FAITH
We wonder how many structural engineers they had to hire to figure this out.
#9 WHERE THE MOON IS ALWAYS FULL
Signs in places like restaurants requiring patrons to wear shirts and shoes are quite commonplace, but this is the first time we've seen a sign that requires people to remove a particular item of clothing before entering.
#10 A WHOLE NEW WAY TO LOVE FISH
Apparently sign-making has the same effect on people!